Safety Signs and Equipment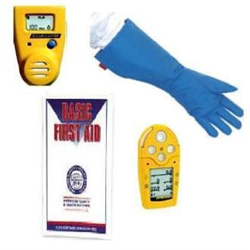 RMI is your one-stop source providing parts and accessories for all your Safety Equipment and First Aid requirements. RMI offers a full line of:
Gas Alerts
Cryogenic Face Shield
Cryogenic Aprons
Cryogenic Gloves
Dewar Labels
First Aid Kits
Krytox Grease & Oil
Lox-8

OSHA Caution Signs
OSHA Danger Signs
OSHA Warning Signs
DOT Placards
Pipe Marker Labels
Sealing Compound
Shoulder Labels
PTFE Paste
Vacuum Grease
Need additional help? Call 800-264-7793 and we'll be happy to assist you with your Safety Equipment and First Aid needs!