Lock Out and Tag Out Products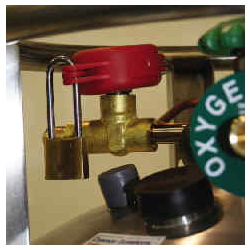 Welcome to the premier industrial resource for Lockout Devices! RMI is your one-stop source providing parts and accessories for all your LockOut Device requirements. Most industrial accidents are caused by the unexpected energization or start p of machines or equipment or by the uncontrolled release of energy. Many of these accidents can be prevented by proper Lockout / Tagout procedures. OSHA's Lockout / Tagout standard, 29 CFR & 1910.147 & 1910.269 are designed to prevent needless deaths and serious injuries to service and maintenance personnel by controlling unauthroized or accidental use of energy. Help lock and protect your valves with RMI's Lockout Devices.
Need additional help? Call 800-264-7793 and we'll be happy to assist you with your Lockout Devices needs.