Dewars and VGL's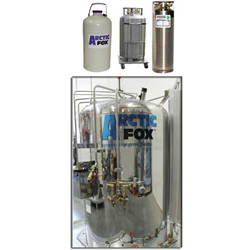 Dewars are storage containers used to contain liquefied gases such as Nitrogen, Oxygen, Argon, and Carbon Dioxide (CO2). These gases are in a liquid state and range in temperature from -290 below zero degrees to -125 below zero. At this temperature, the liquid is very dangerous upon contact with human skin. Dewars contain these liquefied gases safely starting with our dewar flask models and on up to our large bulk models. Ratermann Manufacutring carries lab type 4 liter through 50 liter. Our industrial and medical tanks, manufactured by BTIC (4L) have a working pressure up to 500 PSI and range from 180 liter to 265 liter. These tanks are D.O.T rated for road transport (4L). Ratermann Manufacturing also offers a line of Arctic Fox mini bulk dewars for large storage from 1000 liter to 2000 liter stationary ASME approved and not intended for road transport.

Ratermann Manufacturing offers a complete and quality line of dewars for agricultural use ranging from lab style 4 liter to 50 liter for semen storage (farm use). 10 liter to 30 liter dewars feature semen sample tube storage and a lockable lid outside an anti-condensation jacket with a pocket for lock and key that is included as well.
All Ratermann Industrial and Medical Dewars manufactured by BTIC feature a 5 year warranty on internal vacuum 300-500 PSI, a thicker outer skin then most on market today, available in 180, 200, 240 and 265 liter, round and square base. These are DOT rated and come with the highest quality products on top in today's standards, such as pressure relief from Generant valves are widely used and a great performance record that continue to be reordered on a regular basis.
Mini Bulk Dewars are the latest way to accommodate those larger accounts that need a larger storage on their site. These mini bulk tanks feature 500 PSI and galvanized base with a heavy duty vaporizer diverter with two safeties and a high speed fill line with polished stainless exterior. They are manufactured by an ISO certified manufacturer; all tubing is SS.

Need additional help? Call 800-264-7793 and we'll be happy to assist you find the Dewars, Tanks, and Cylinders to meet your requirements.