Collars - Cylinder ID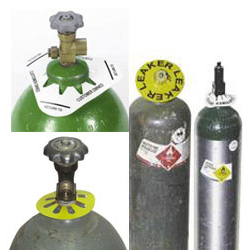 RMI offers the complete gas cylinder ID collar system to track cylinders from plant through customer with our various sizes of cylinder collars. We offer 80 cu. ft. through 330 cu. ft available in Triangle, Round and Square, Non Cap Style for Medical-Yoke, Mc & B Acetylene, Acetylene and XL Cap Style available. RMI also offers a customized Cylinder Management System for your organization.
Need additional help? Call 800-264-7793 and we'll be happy to assist you with your Cylinder Collar needs.